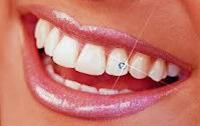 Swarovski® is considered to produce the finest precision-cut crystals in the world. Their crystals are polished to the highest standards of quality and sparkle like diamonds.
Simple Facts about Tooth Jewelry:
Tooth Jewels are small in diameter ( 1.7 mm, 1.9 mm and 2.1 mm)
It is non-invasive and painless.
Our application does not require drilling or holes.
Involves a procedure that only takes about 10 minutes using safe professional dental materials.
Requires no extra maintenance.
Can be removed or replaced any time has no effect on the tooth enamel once the jewel is removed or replaced.
It is stain resistant.
Does not obstruct regular brushing even if using an electric toothbrush nor restrict you from visiting your dentist or dental hygienist.
Give your smile that extra sparkle!
NB! If you are younger than 18 years old, parents consent is required.
Procedure: Our application does not require drilling or holes. It is completely painless, will not harm the tooth, and can be easily removed. Tooth Jewel is bonded by a dental grade adhesive which is light cured. After being light cured it is solid and will not come off until it is dissolved off by the client's saliva, knocked off due to biting and chewing or taken off by you.
Risks: Tooth Jewel could be swallowed during eating but will naturally come out later on.
Price: $75 (any size)
GIFT CERTIFICATE FOR THE TOOTH JEWELS ARE AVAILABLE