An attractive smile can play an important role in your life, affecting how you look and feel. If you've ever thought about whitening your teeth, there's no better time to do it than right now.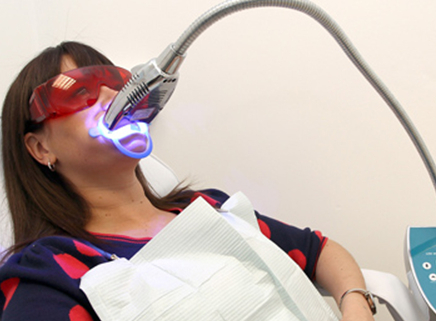 There are several methods of whitening your teeth:
Professional which is includes At-Home Teeth Whitening and In-Office Teeth Whitening and
Over-the-Counter witch includes strips, whitening toothpaste. Let's take a look at every option.
In-Office Professional Whitening:
Advantages: One visit is usually all takes for a bright smile. It takes approximately one and a half to two hours.
Disadvantages: This is more expensive of the procedures available. Not recommended for people with sensitivity.
Procedure: Before and after the treatment, the shade of your teeth will be assessed and recorded. A plastic cheek retractor will be placed in your mouth to help keep it open and your gums will be covered with a barrier to ensure isolation from the whitening gel. During the procedure, the whitening gel will be applied to your teeth for two 20-minute sessions and extra 10-20 min if needed. Special cold blue light will shine on your teeth to accelerate the whitening. Whitening procedure will be completed with the application of remineralizing and desensitizing gel which helps alleviate any transient tooth sensitivity and hardens tooth enamel, thus making it stronger and more stain resistant.
In-Office Regular Whitening:
Advantages: Very simple and affordable whitening option. It takes approx 1.30 hours to brighten up your smile. Recommended for people who had whitening before and would like to touch-up whitening or who has sensitivity and cannot do In-Office Professional whitening.
Disadvantages: The result will not be as dramatic as after In-Office Whitening.
Procedure: A plastic cheek retractor will be placed in your mouth to help keep it open. Then the whitening gel will be applied to your teeth for 15 minutes and a special cold blue light will shine on your teeth to accelerate the whitening.
At-Home Professional Whitening:
Advantages: One of the most popular methods of achieving a brighter smile. It requires custom-made trays, and professionally dispensed whitening gel. The cost is relatively low. You'll see whitening within the first few days with maximum result achieved in 10-14 days. You can control the result by yourself.
Disadvantages: Take longer time to whiten, usually 10-14 days.
Procedure: The impression of your teeth will be taken. Few days later you will be provided with the custom-made trays and whitening gel. If you have sensitivity the concentration of the whitening gel could be customized.
Whitening Strips:
Advantages: Very affordable in price. There is also generally less sensitivity.
Disadvantages: Strips has lower concentration of whitening gel so there is no significant expectation in teeth whitening. Most brands will cover only a person's six front teeth, so a large portion of the mouth will remain unbleached. Not effective in areas where tooth crowding is present.
Whitening Toothpaste:
Advantages: Effective if your teeth have stains.
Disadvantages: Teeth whitening toothpastes usually contain mild abrasives that gently scrub the teeth. Some people can experience tooth or gum sensitivity and might find these products too abrasive.
Frequently Asked Questions
What are contraindications to teeth whitening?
Children under 16 years, Pregnancy, Breastfeeding, Caries, Large defective restorations, Teeth sensitivity, Gingival or periodontal conditions, severe recession.
How whitening works?
Hydrogen peroxide and Carbomide peroxide are the active ingredients that whiten teeth.
As the peroxide in the gel breaks down, hydroxyradicals, which are highly reactive, enter the tooth to naturally whiten the stains.
Is the process safe?
Absolutely. Clinical research proves that whitening teeth under dental/dental hygienist supervision is safe for teeth and gums. In fact, it considers the safest cosmetic procedure available.
What are the prerequisites for teeth whitening?
Professional teeth cleaning must be completed prior to teeth whitening.
How white will my teeth get?
Results vary, depending on your age, starting shade and the condition of your teeth.
How long will it last?
With proper maintenance, your teeth will always be lighter once you whiten. However, you may want a "touch-up" once or twice each year.
Are there any side effects?
Some people may experience increased tooth sensitivity during treatment. If you're prone to hypersensitivity, you can decrease the "wear-time" per day and increase the number of days. It is best to talk to your dental provider about sensitivity. There are many over-the-counter and prescription methods for reducing sensitivity.
Why whiten my teeth professionally?
Your Dental Hygienist will assess your teeth and gums, make sure you are good candidate to whiten. She'll choose the best product for your teeth and oversee the treatment. According to dental professionals, the best bleaching results come from dental providers.
Nowadays, even some beauty spas advertise whitening of cause for a more attractive price. But how can you know if they give you the quality product? Ask them some questions:
What is the concentration of the whitening gel? The lowest concentration should be at least 35% to deliver good results. A smaller concentration may not give the result that you are expecting.

Does whitening gel have desensitizer? One of the side effects of the whitening is sensitivity. If the whitening gel does not have the desensitizer it could be very uncomfortable during and after the procedure.

Who is the manufacturer? Countries such as Canada, USA, Australia, and EU have very strict quality control. It means the quality of the products should be good as well.

Can beauty spas give you the same safe environment as dental office does? Think twice.